Disaster Preparedness & Emergency Response
Health Care Coalition
CATRAC works with emergency management, hospitals, EMS, public health, first responders, and other agencies in emergency preparedness for 29 counties within Trauma Service Area (TSA) L, M, N, and O. The regions of TSA L, M, N, and O encompass the cities of Austin, Temple, Killeen, Waco, Brenham, Bryan and College Station. As part of the Hospital Preparedness Program, CATRAC works to enhance the ability of participating hospitals and healthcare facilities to improve surge capacity and enhance community and hospital preparedness for public health emergencies. CATRAC is also responsible for conducting a Hazard Vulnerability Assessment (HVA) for these regions and assists healthcare agencies with emergency and disaster preparedness planning and exercises. CATRAC has various medical assets including Mobile Medical Units (MMU), generators, response trailers, personal protective equipment, and other supplies that are available to be used during disasters, exercises, and planned events.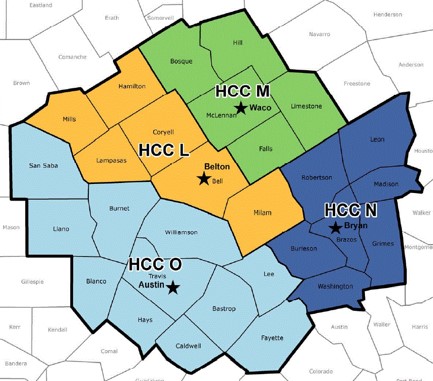 Regional Medical Operations Center (RMOC)
Known as 7-RMOC Austin/Central Texas, the RMOC serves as the healthcare coordination center during disasters or catastrophic incidents. The RMOC can be activated by any local jurisdiction or the Texas Department of State Health Services (DSHS) to assist hospitals, healthcare systems, public health, and emergency medical services with healthcare response and coordination. The RMOC also provides a single source for local Emergency Operations Centers (EOCs) coordinate planning and response activities with area hospitals, EMS agencies, public health, mental health, and other ESF-8 partners within EMTF-7.
EMTF-7
The Emergency Medical Task Force (EMTF) Project was developed by the Texas Department of State Health Services (DSHS) to create a network of regionally based, rapid response medical teams. The goal of the EMTF project is to provide a well-coordinated, rapid, professional medical response to large regional or state incidents. EMTF-7 is supported by four member RACs: The Brazos Valley, Central Texas, Heart of Texas, and Capital Area Regional Advisory Councils. As of July 1, 2017 the Department of State Health Services has designated CATRAC to be the lead contracting RAC for EMTF-7.